The Indian government is no stranger when it comes to fielding some hella weird questions. There was an RTI asking if Prime Minister Narendra Modi had acted in Ramlila and what's his number. An RTI was sought asking what was Mahatama Gandhi's IQ, another asking how many trees are green in the country.
But on March 15 this year, a man by the name of Ajay Kumar conclusively ended the contest of amazing queries posed to the government, by filing this RTI request.
Here's what he exactly wants to know.
I am concerned about the readiness of our Government in the event of an invasion by Aliens Zombies and Extra Dimensional Beings.
Can the Ministry of Home Affairs tell me
What plans are in place for protecting the public in the event of an invasion by Aliens or Zombies and Extra Dimensional Beings
What are our chances against them
What means does the Government have at its disposal to defeat them
Can we do it without Will Smith
"Can we do it without Will Smith?" Kumar, who is 26 years old, added. He was referring to the Hollywood actor who fights zombies in the film I Am Legend and tackles aliens on earth in the Men in Black film franchise.
In its response, the Home ministry has stated that the query refers to a "hypothetical situation" and therefore does not fall under its purview.
The image was posted on the Facebook page of YouRTI.in, a site that allows citizens to submit online RTI requests.
But it went viral only few days back when it was posted on Twitter by journalist Abhimanyu Ghoshal.
And twitter have been left wondering how it took this long for someone to ask the government something so relevant and important.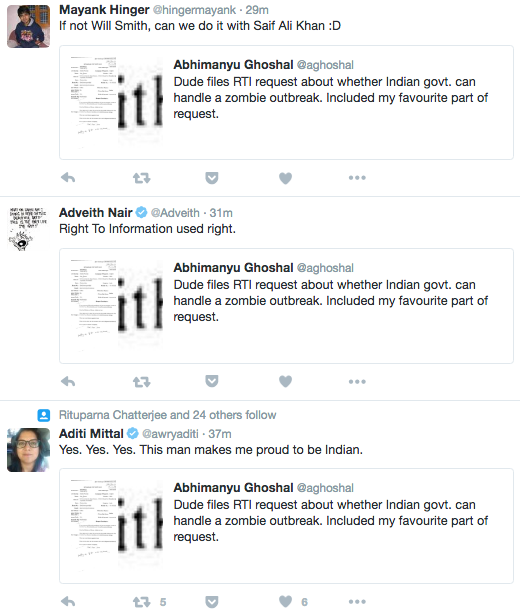 The Right To Information (RTI) Act gives Indian citizens the power to ask public authorities any relevant questions.